Farm friends bundle
 IVA incl.
Coco and Pepe are the best friends on the farm. Coco is a mischievous and playful bunny, always jumping from one side to the other and doing acrobatics in the air. Pepe, on the other hand, is a good-natured and gluttonous little pig, always looking for something to eat and wallowing in the mud.
Despite their opposite personalities, Coco and Pepe get along very well and enjoy spending time together on the farm. They can often be seen running around the green fields, exploring the stables and sharing delicious snacks.
In addition to their friendship, Coco and Pepe also have other friends on the farm, such as Lola the chicken, Chip the chick, and Rufus the dog. Together they form a large animal family that lives in harmony on the farm. Life on the farm is always exciting and full of adventure for Coco, Pepe and their friends. Whether they're playing in the meadow or helping with daily chores, there's always something fun to do on the farm.
What's included in this kit
Skill level
Beginner, recommended for ages 12 and up.
Are you right-handed or left-handed?
We've got you covered. Our beginner crochet kits work for both right and left handed people, and all of our Snuglies crochet tutorials have right and left handed versions.
Size
Approximately 10cm tall. As this is a handmade item, the exact size will depend on your knitting style and the tension you apply to the stitches.
Compare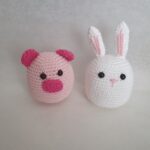 Farm friends bundle
Your review
* Review is required
Email
* Email is required
Add photos or video to your review