Coco the Bunny crochet kit
25,00€ – 30,00€  IVA incl.
Meet Coco the Bunny
With his soft, fluffy fur, Coco is the perfect companion for crochet and amigurumi lovers. With this kit, you will learn how to crochet your own Coco the Bunny, even if you are a beginner. Our detailed step-by-step instructions will guide you through the process, from choosing yarn to creating the smallest details. You'll love the end result and be proud to show your creation to friends and family!
With Coco the Rabbit in your hands, you'll feel like you're in a sunny meadow filled with fresh spring flowers. Buy now and start your amigurumi crocheting journey!
Can I really learn to crochet with these kits?
Of course! Follow the step-by-step video guides that come with each kit to learn how to crochet. The stitches that they will learn are the basic ones that are used when crocheting any crochet work.
What's included in this kit
Step-by-step video tutorials.
Yarn in the colors corresponding to your Snuglie, perfect for beginners.
Unlimited email support, plus video calls during office hours with our experts if you get stuck.
Plastic eyes.
Padding.
Yarn needle.
Point markers.
Downloadable crochet pattern in PDF.
Ergonomic 3mm crochet hook (at extra cost).
Skill level
Beginner, recommended for ages 12 and up.
Are you right-handed or left-handed?
We've got you covered. Our beginner crochet kits work for both right and left handed people, and all of our Snuglies crochet tutorials have right and left handed versions.
Size
Approximately 10cm tall. As this is a handmade item, the exact size will depend on your crocheting style and the tension you apply to the stitches.
Compare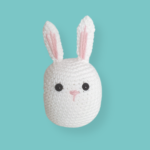 Coco the Bunny crochet kit
Your review
* Review is required
Email
* Email is required
Add photos or video to your review