Forest friends bundle
 IVA incl.
Max the Fox and Pedro the Bear are the best friends in the forest. Together, they spend their days exploring and playing in nature. Sometimes they get into trouble, like when Max tries to steal fruits and nuts from the neighbor's garden and Pedro has to intervene. But, in general, they are an inseparable couple who always have fun.
The other animals in the forest consider them to be the two most fun and adventurous friends you could ever find, and if you need them, there is a good chance they will be in their favorite place, under the big oak tree by the river.
What's included in this kit
Skill level
Beginner, recommended for ages 12 and up.
Are you right-handed or left-handed?
We've got you covered. Our beginner crochet kits work for both right and left handed people, and all of our Snuglies crochet tutorials have right and left handed versions.
Size
Approximately 10cm tall. As this is a handmade item, the exact size will depend on your knitting style and the tension you apply to the stitches.
Compare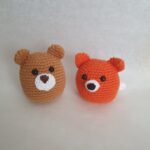 Forest friends bundle
Your review
* Review is required
Email
* Email is required
Add photos or video to your review